Have you ever been to a tapas bar where they serve little plates of delicious small dishes to accompany your drinks (very good idea from Spain)?  There is almost always a version of Spanish tortilla on the menu – you get a big wedge of translucent potato slices with just enough egg to hold them together, often drizzled with garlic aioli (fancy mayo).  (This is not a tortilla like the ones you use to wrap a burrito.)
Turns out the reason for the beautiful translucent potatoes is OLIVE OIL.  A lot of it!!  Traditional recipes I looked at call for up to  1-1/4 cups.  YIKES.  Luckily, the venerable Cooks Illustrated has a version that "only" uses 1/2 cup.  Before you freak out, remember this is for a whole pie that you cannot possibly eat by yourself or all in one sitting. We ate one large slice each for dinner which was quite filling and probably contained 2 T. of olive oil. We accompanied it with mushrooms in Spanish sherry and our favorite kale salad.  Leftovers are absolutely delicious for breakfast the next day.
Recommended Soundtrack:  Best of the Gipsy Kings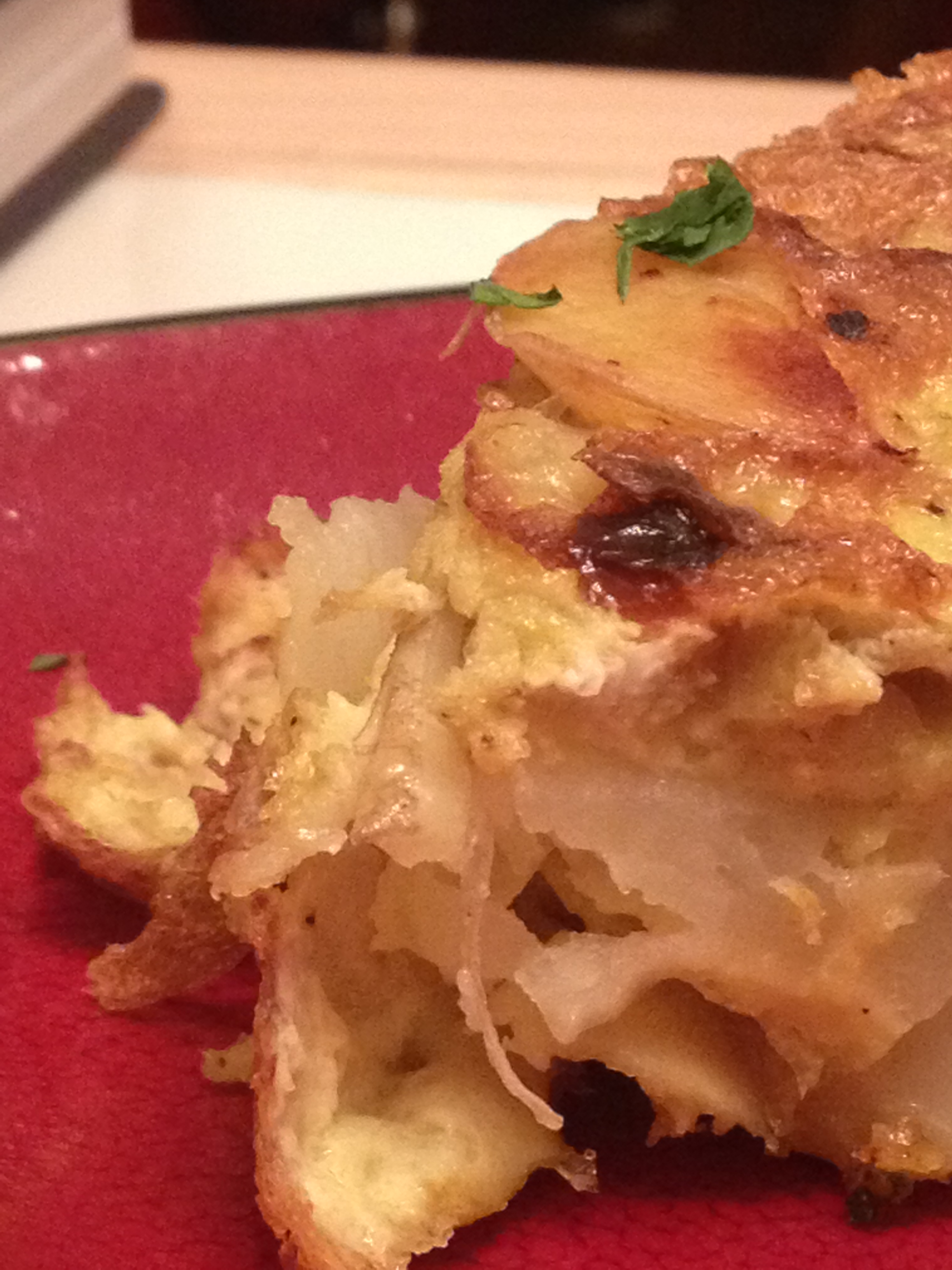 SPANISH TORTILLA
Adapted from Cooks Illustrated online, original recipe here (but you might need a membership to see it)
Ingredients:
1/2 cup extra virgin olive oil
1 lb. potatoes (Cooks Illustrated likes russets but I used Yukon Golds, about 4-5 potatoes), thinly sliced (1/8″) – no need to peel Yukon Golds
1/2 medium onion, sliced as thin as possible
1 tsp. salt
10 large eggs
1/4 tsp. ground black pepper
Optional:
2 pinches smoked sea salt
Spanish smoked paprika
Fresh parsley, chopped
Equipment:
Oven-proof skillet with straight sides and a lid
Method:
Mix your eggs: Crack the eggs into a bowl, add 1 tsp salt and the pepper, and whisk until uniformly yellow.
Adjust an oven rack to middle position and heat oven to 425 degrees F.  Heat the olive oil in your oven-proof skillet over medium heat until shimmering.  Add the potatoes, onion, and sprinkle with 2 pinches of regular or smoked sea salt.  Stir to coat thoroughly.  Cover and cook, stirring occasionally, until potatoes and onion are soft, 8 to 10 minutes.
Pour the eggs over the potatoes, stir just to combine (do not scramble, just stir) and cook until eggs begin to set, about 1 minute.  Smooth the top and sprinkle with Spanish smoked paprika, if using.
Transfer the skillet to the oven and bake until the eggs are cooked, the top is puffed, and the edges have pulled away slightly from the pan, about 9 minutes.
Get out two dinner plates.  You will use these for flipping and serving this bad boy.  Loosen the edges of the tortilla and as far under as you can get with a spatula.  Shake it a bit to loosen further.  Now put one plate over the top of the skillet, hold the edges together and flip it over.  The tortilla will be on the plate, but upside down.  (If it didn't all come off, just put the extra bits on now.)  Now take your second plate, turn it upside down, cover the tortilla with it, and repeat the flip, to turn the tortilla right side up.  Sprinkle with fresh parsley (if using).  Admire your work.  Isn't it pretty?  Let it cool a bit (it's best when just warm) and cut into wedges to serve.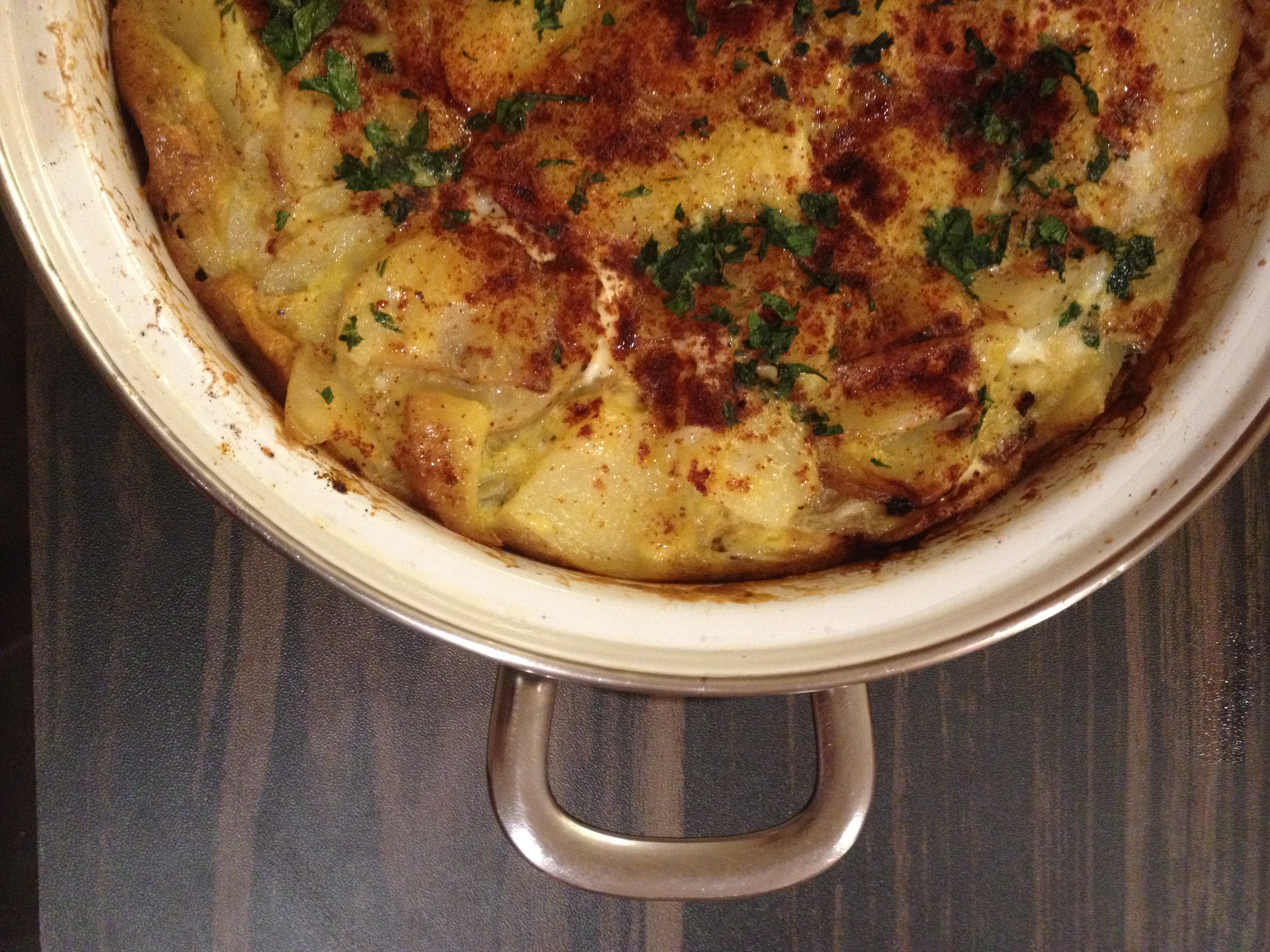 This is a radish*rose recipe adapted from Cooks Illustrated.  All images & content are copyright protected. All rights reserved. Please do not use my images without prior permission. If you want to republish a recipe, please credit radish*rose and link back to the recipe.