Fear not – these are very friendly, not too spicy peppers! You can handle them even if you're a bit wimpy about hot stuff like I am. They make a great healthy and guilt-free appetizer. Look for shisito peppers at your local Asian market (and many mainstream markets have them now too). They are bright green and longer and skinnier than a jalapeno, with a tendency to curl a bit. Sometimes they are labeled "sweet peppers" or "curly peppers".
BLISTERED SHISITO PEPPERS
I usually get about 4 oz. of peppers for 2 people.
All you do when you get 'em home is:
Wash them and dry well (must be dry so they'll char and blister)
Toss with a few drops of neutral oil, such as olive oil or peanut oil
Sprinkle with flaky sea salt, such as Maldon
Cover a broiler pan with foil. Lay the little guys in a single layer on the pan. Broil for 8-10 minutes, turning over halfway through (once you start to smell them, check 'em). You want to get a nice char on them (but not burn them, obviously). When they are done, sprinkle with a little more salt, then hold by the stem and eat them (don't eat the stem though, it is just a convenient handle).
They are great on their own or dipped in light ranch or blue cheese dressing or tzatziki (Greek yogurt sauce).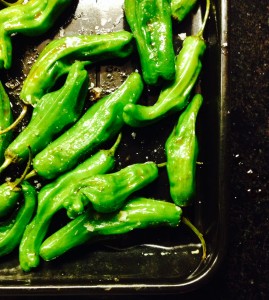 This is a radish*rose original recipe.  All images & content are copyright protected. All rights reserved. Please do not use my images without prior permission. If you want to republish a recipe, please credit radish*rose and link back to the recipe.