Every time I make this slaw, which is about once a week, my husband exclaims "This slaw is awesome!!".  It's very refreshing, non-mayo-based, and full of fresh and good-for-you stuff.
ASIAN SLAW WITH GINGER, GREEN ONIONS, AND SESAME
Adapted from The Bon Appetit Cookbook: Fast Easy Fresh
Ingredients:
1 bag of coleslaw mix containing cabbage, carrots, radicchio, etc. (original recipe calls for 4 cups thinly sliced Napa cabbage but this saves a step)
1/2 c. thinly sliced green onions
1 to 4 T. finely minced fresh ginger (I like it really gingery so I use a lot more ginger than the original recipe calls for)
3 T. seasoned rice vinegar (I use Marukan in the yellow bottle)
2 T. peanut or other neutral oil
1 tsp. Asian sesame oil
1 tsp. sugar, agave nectar, or mirin (Japanese sweetened sake)
1 T. toasted sesame seeds (you can toast them on a small pan in the toaster oven set for 2 slices of toast, or in a small skillet on the stove top, or simply microwave them for 30 seconds which will warm but not brown them)
Equipment:  Large salad bowl and small skillet, toaster oven, or microwave for toasting sesame seeds
Method:
Toss cabbage or slaw mix, green onions, and ginger in salad bowl. In a small jar with lid (like a jelly jar), add rice vinegar, peanut oil, sesame oil, and sugar or agave nectar or mirin, and shake well to make dressing. Pour dressing over slaw, toss well, and top with sesame seeds. Ready!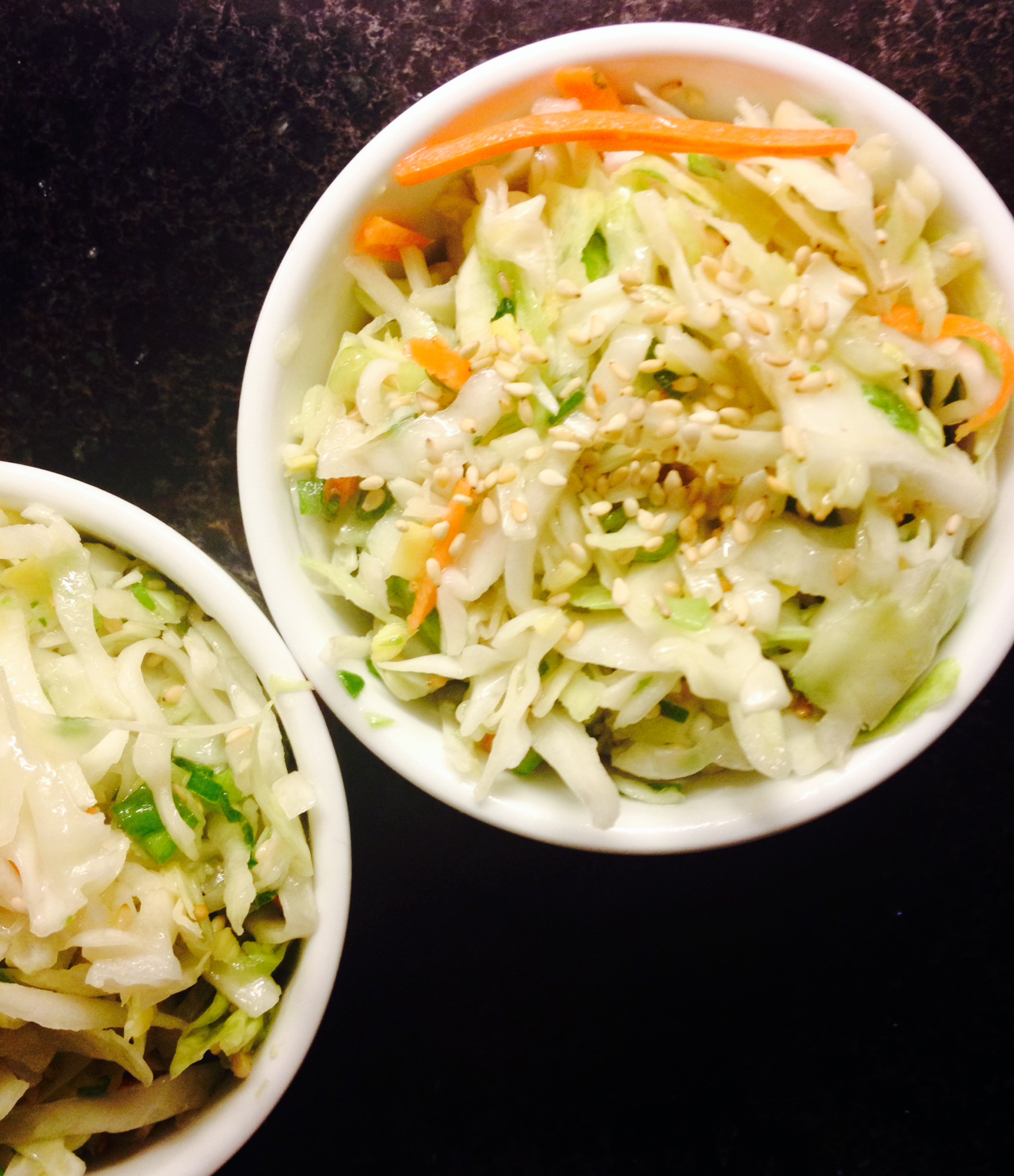 This is a radish*rose original recipe.  All images & content are copyright protected. All rights reserved. Please do not use my images without prior permission. If you want to republish a recipe, please credit radish*rose and link back to the recipe. 
Disclosure: radish*rose is an Amazon.com affiliate.  Purchases made through links in this post may earn a commission for radish*rose.