If I might make an observation, IT'S FULL-ON SUMMER here!  So maybe you don't feel like cranking up the oven. Instead, you might want a light but hearty, protein-filled salad for dinner. And wouldn't it be great if you could make it from items you can keep handy in the pantry, with a few fresh ingredients to liven things up?  A tip: put all your canned ingredients in the fridge before you leave for work.  Then when you get home, throw this together, and it will already be chilled and you can nom-nom it right away!  This is a super-flexible recipe, so if you haven't got hard-cooked eggs or artichoke hearts already at hand, just leave them out or sub in something else you do have that you think would be nice.  It will be OK. Promise.
WHITE BEAN, ARTICHOKE, TUNA, AND EGG SALAD
Inspired by Everyday Italian: 125 Simple and Delicious Recipes
Ingredients:
2 cans tuna packed in water, drained
1 can great northern or other white beans, well rinsed
1 can artichoke hearts, well rinsed and chopped (if you don't have these, you can sub in a 2nd can of beans or veg, or just leave it out)
1/2 red onion, finely chopped
2 T. capers
1/2 c. fresh parsley, finely chopped
1/2 tsp dried oregano
1/2 lemon's juice
4 hard cooked eggs, diced (you can leave these out if you don't have them and don't feel like making them right now)
1/2 tsp flaky sea salt (like Maldon)
Freshly ground black pepper
1/2 recipe radish*rose balsamic mustard vinaigrette – or 1/4 c. red wine vinegar + 1/2 c. olive oil and some extra salt and pepper
Optional: greens to serve on
Equipment: Large salad bowl
Method:
Mix all together.  Ta-da! Done!
I like to serve it over a bed of greens.  Or you could put it in a wrap.  Or you could make crostini by putting it on a toasted round of bread.  Or you could eat it on crackers. Or you could just eat it straight up with a spoon. I bet you could even toss it with some whole-wheat short pasta like bow ties and make a nice pasta salad.  Yum!
BONUS – SALAD JARS FOR THE NEXT DAY!
This makes enough for two adults for dinner over greens, PLUS two lunches the next day!  You can make salad jars – these are all over Pinterest: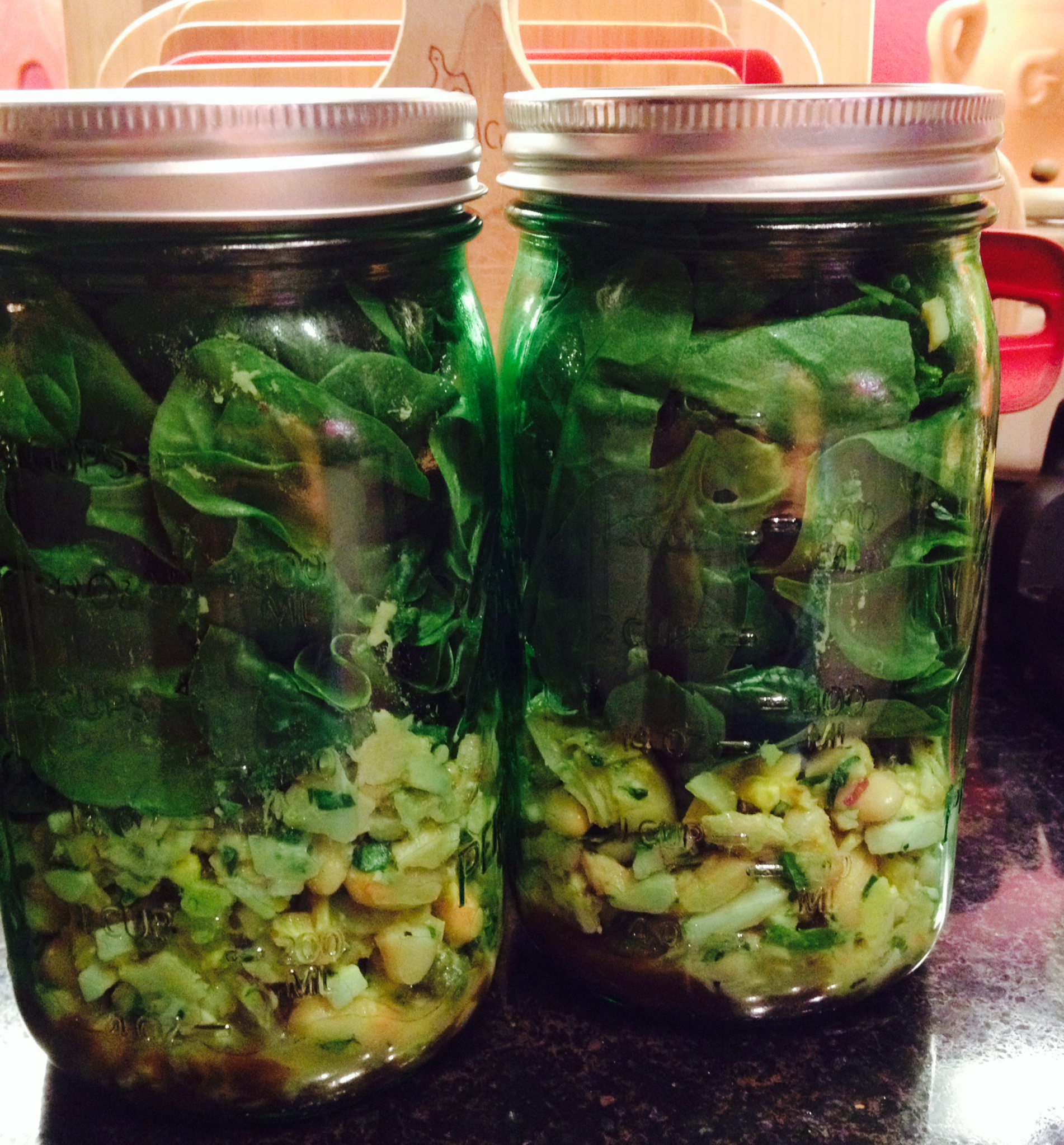 The general idea is genius layering: you put the dressing at the bottom (extra radish*rose balsamic mustard vinaigrette works well), then the fillings (in our case, our bean-artichoke-tuna-egg salad), then the greens. You carry it off to work and stick it in your work fridge. Then when it's lunch time, get a plate, and decant your salad from the jar onto the plate.  It will come out with the greens first, then the toppings, then the dressing.  The greens have magically stayed dry and crisp due to being inside the glass jar without contact with the dressing. A cute and useful idea!  Thanks Pinterest and all those who pin!
Love these vintage-repro green glass Ball jars?  Get your own!
This is a radish*rose original recipe, adapted from the source(s) named above.  All images & content are copyright protected. All rights reserved. Please do not use my images without prior permission. If you want to republish a recipe, please credit radish*rose and link back to the recipe. 
Disclosure: radish*rose is an Amazon.com affiliate.  Purchases made through links in this post may earn a commission for radish*rose.