Did you know you can use the slow cooker to turn dried beans into perfectly cooked beany goodness?  No pre-soaking necessary!  Really: ANY BEANS.  That being said, the best dried beans come from Rancho Gordo.  (Also they have awesome popcorn if you want to make this.) I used their Vaquero beans for this recipe (aren't they cool looking?) and honestly every single bean in that bag is so good. Yum!  Also… bonus side effect… your home will smell really good as these beans are cooking.  (And how to put this delicately… your home can continue to smell good thanks to the geniuses at Beano. Check it out. Thank me later.)
PICKING OVER THE RANCHO GORDO VAQUERO BEANS (but they were already pretty clean) AND THEY GO WITH MY OUTFIT: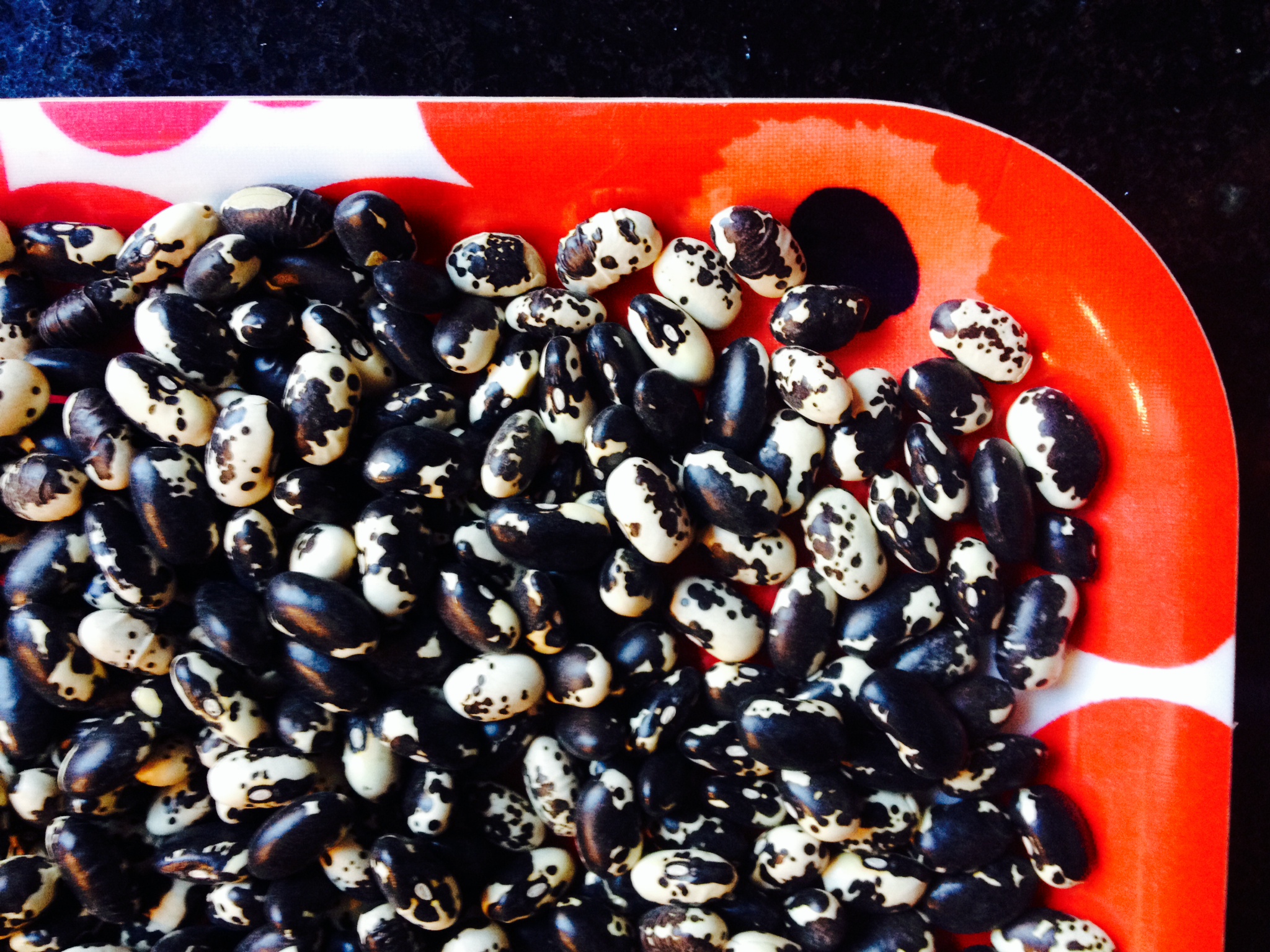 SLOW-COOKED VAQUERO BEANS WITH ONION, GARLIC, AND OREGANO
Adapted from the April 2014 Rancho Gordo newsletter
Ingredients:
1 c. (= 1/2 lb. or 1/2 bag) Rancho Gordo vaquero beans (or any other dried beans) – picked over and rinsed
1/2 yellow or white onion, diced
optional: 3-4″ piece kombu kelp (why include this and what is it? it helps soften the beans and makes them easier to digest – see informative article from TheKitchn.com, here, and get your own at your local Asian market or here)
1/2 tsp. smoked salt (or regular if you haven't got smoked)
Equipment: 1 1/2 qt. slow cooker (best if it has a removable crock for easy washing-up later) – mine is Hello Kitty. Really. Removable crock and everything. No one thought I could make useful things with this (chalking it up solely to my Hello Kitty obsession) but I CAN and so can you. Hee. Or feel free to use a regular normal kind of slow cooker but then you won't have Hello Kitty beans. Just sayin'.
In 1  1/2 qt. slow cooker, add beans, onion, garlic, oregano, and kombu kelp (if using) to slow cooker. Add water to cover, up to 1/2 " from top of cooker (if you're using a larger slow cooker, cover by 2-3″ of water). Cover and cook for 4-5 hours on High, stirring once halfway through. Taste 4-5 beans to be sure they are cooked through (but not overcooked and mushy) – you have to taste a few because beans cook at different rates and you don't want to taste just one that was an overachiever. Cook longer if needed.  Stir in salt when done cooking. Enjoy!
HELLO KITTY SLOW COOKER IN ACTION:
This is a radish*rose original recipe, adapted from the source(s) named above.  All images & content are copyright protected. All rights reserved. Please do not use my images without prior permission. If you want to republish a recipe, please credit radish*rose and link back to the recipe.