Well hello there!  Or should I say Bonjour? In case you've been wondering where I've been: PARIS. Also London. Lucky me!! This is a bit of a departure (pun intended) from my usual posts but you'll see, THERE'S FOOD.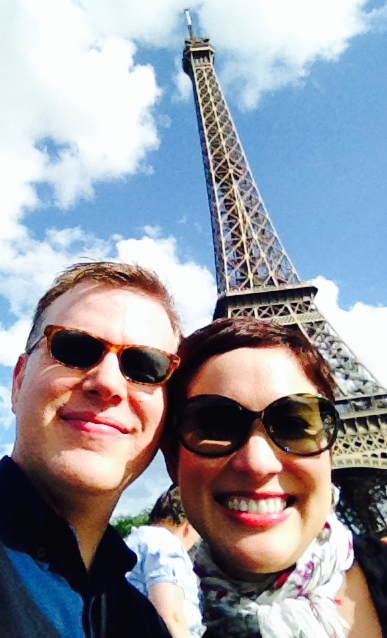 My husband had business in London, so we decided to add on a few days of fun, and took the EuroStar train from London to Paris – only two and half hours away.  We stayed at the Hotel Chopin, which is an utterly charming and very reasonable boutique hotel located in a shopping arcade. The only potential issue was that it is SO charming and old fashioned that there is no air conditioning, although there are large, beautiful windows to open (screenless). The weather was unseasonably cool during our visit, so this was not a problem, although I was a bit worried beforehand since I know it can get quite hot there. Also: pigeons could totally fly in. But that didn't happen. They just cooed around adorably outside.
One odd thing about Paris in August is that all the Parisians seem to have gone on holiday.  Many of the shops were closed with little signs on the door saying they were away for several weeks (we were there the second to last week of August).  All the tourist sites were open though, and full of American and European tourists. Because of this we decided not to make a point of chasing down particular shops, in case we made a big effort to get there only to find it closed – we decided to just discover as we went along. Serendipity!
Day One: Le Marais
Our first afternoon, we arrived HUNGRY so ate at our first Parisian brassierie.  I was delighted to find out the "cafe life" you read about is alive and well – people would sit, eat, drink, talk and smoke outside (hello, France!), seemingly at complete leisure. And all the cafes really do have those cute rattan chairs in different colors! The cafes all had similar menus of typical French fare – omelettes, Caesar salad, eggs with mayonnaise (I never did figure that one out but apparently it is a Paris specialty), warm goat cheese salad, and heartier fare such as beef bourguignon and roast chicken.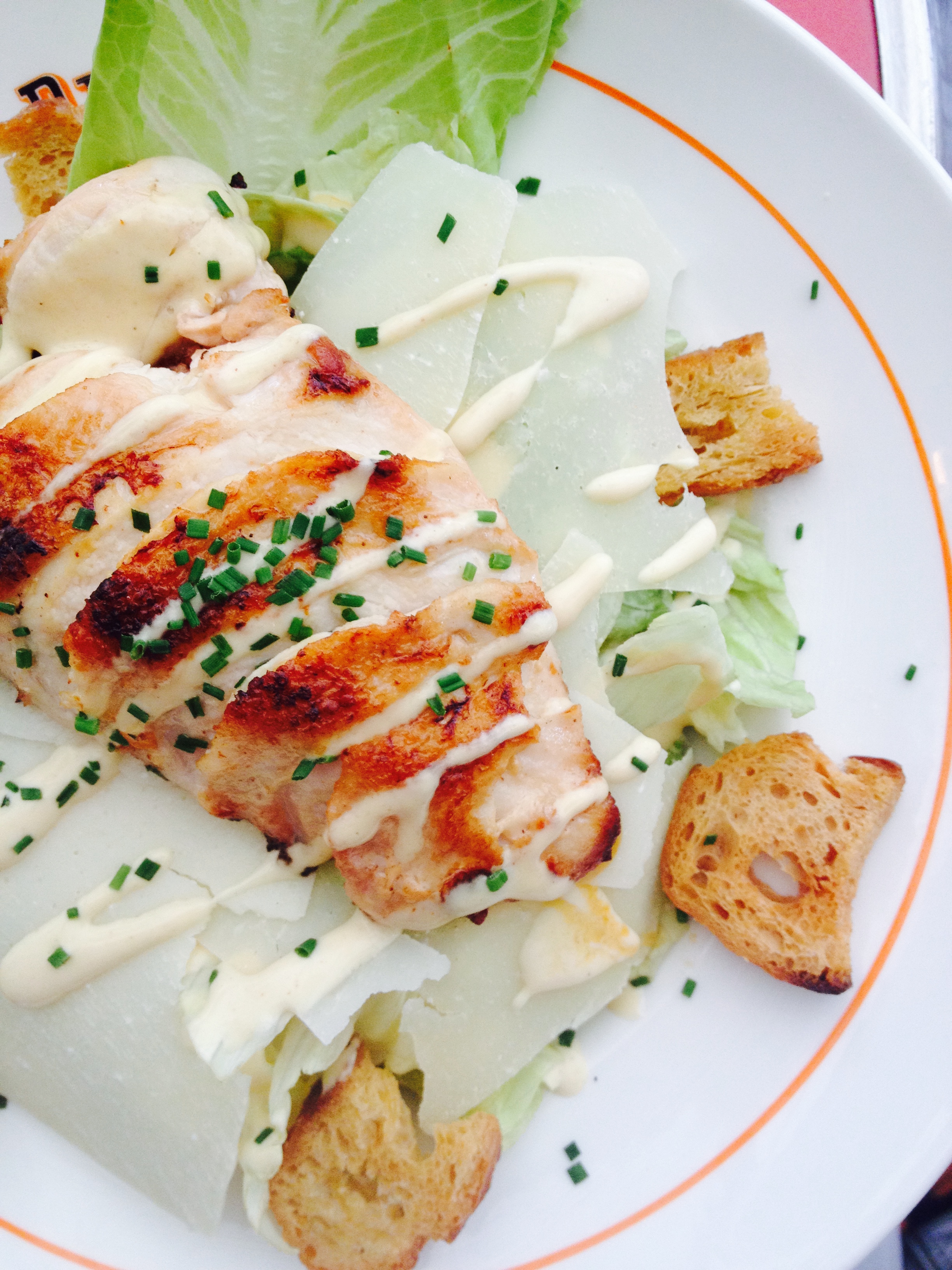 After lunch, we walked to the Place de Bastille through the empty streets (we guessed no one was out and about due to it being a Sunday in August – ?).  We rested for a while in the Place de Vosges which is a very pretty park surrounded by extremely posh-looking homes.  There was a harp concert going on one of these posh homes which we could hear as we sat peacefully in the park.  So nice!
Next, we walked over to Le Marais – a neighborhood that was hopping & bopping on a Sunday.  This was where all the people were! All the shops were open! Apparently Le Marais is the place to be on Sundays. I was delighted to find some Bensimon sneakers, unavailable in the US in my size (Euro 33).
For dinner we were so exhausted, we bought some cheese, grapes & wine and had a little picnic in our hotel room. When in France! The wine, which I wish I had photographed, was less than 7 Euros and was excellent.  Happy sigh.
Day Two: Eiffel Tower
We walked from our hotel to the Eiffel Tower – a distance of about 5 miles. I hope I burned off all that cheese.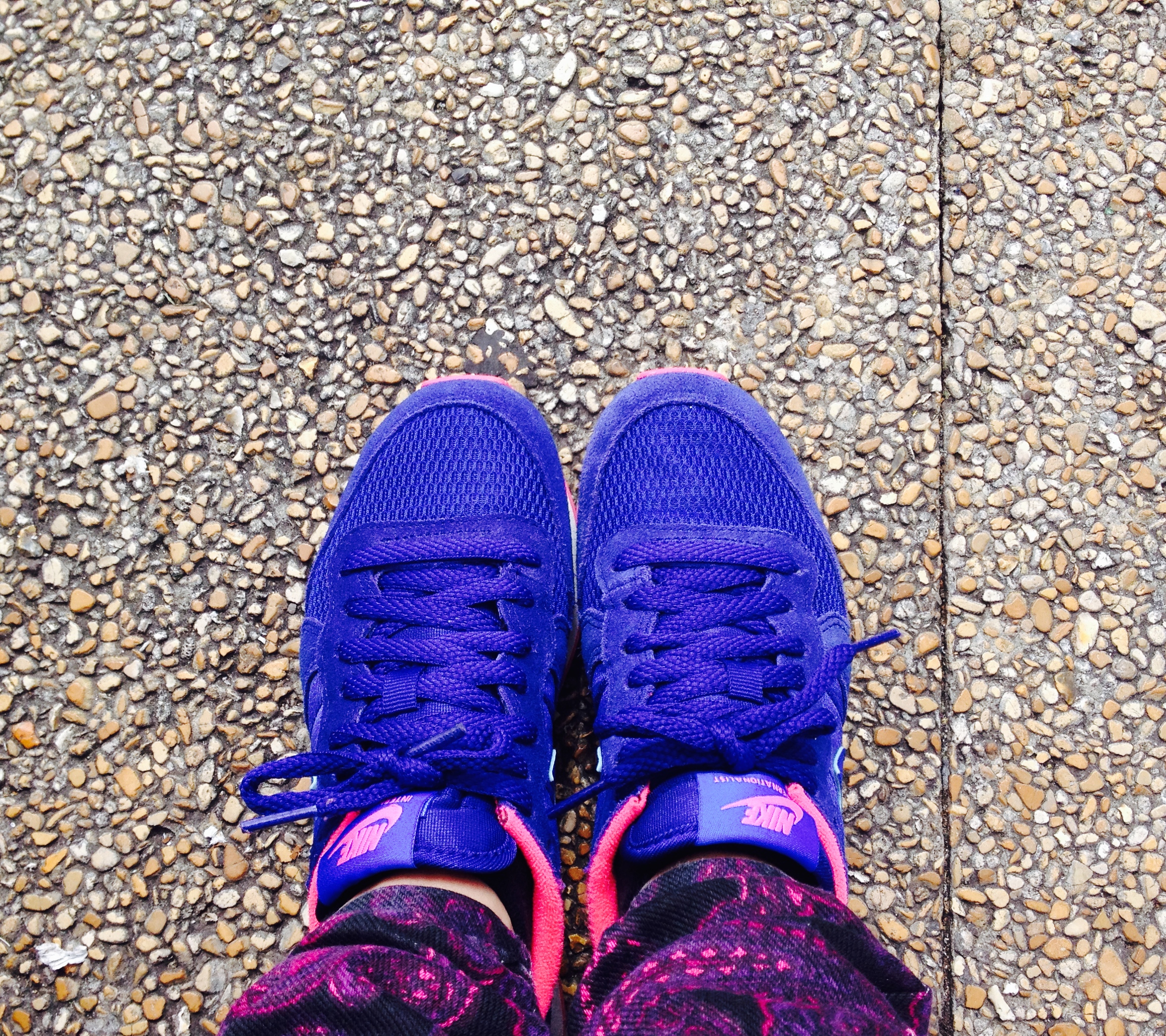 I had attempted to buy Eiffel Tower tickets online a couple of days before we left, but they were all sold out.  Huh?!  How could it be completely sold out for every hour of every day we were going to be in Paris?!  I resorted to Google and found "skip the line" tickets that came with a Seine cruise included.  It was very reasonable compared to the cost of going to the Tower alone. I am very glad we did that instead! Plus we blew right by the lines LIKE A BOSS. We did have to go to a small travel agency to pick up the tickets first, where the agent explained to us (in English, whew) how to go in to the Tower when you already have tickets, and where to catch the boat afterwards.  You could do the boat any time (every 30 minutes) and it did not have to be right after you left the Tower, so that was nice – we had lunch in between.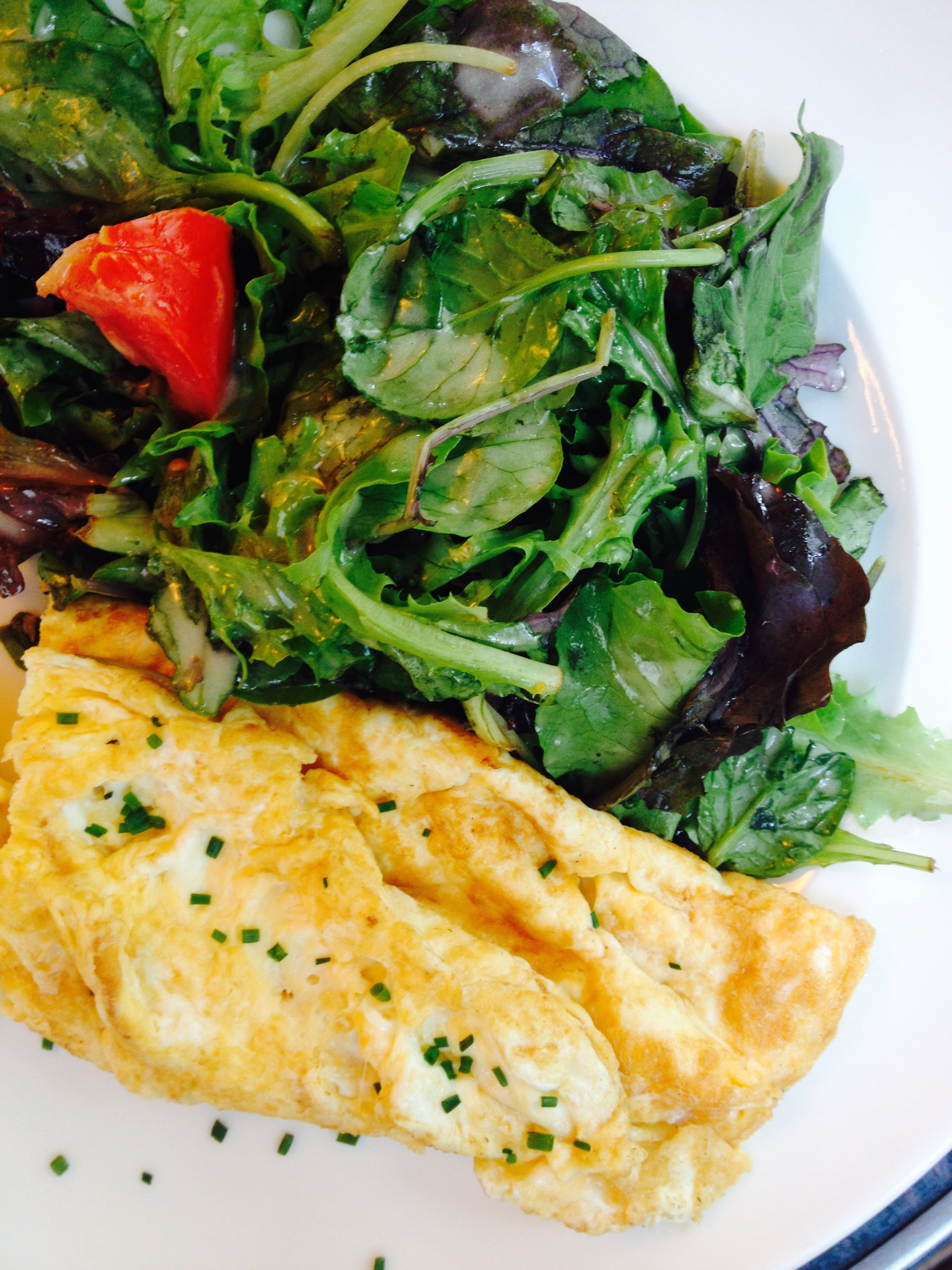 After our Seine river cruise, we walked over to the Trocadero to see the Eiffel Tower from there. Then we took our first Paris Metro to the Arc d'Triomphe.  The line was too long to go inside, so we just admired it from the outside and walked down the Champs Elysees towards home. I was kind of fuzzy from all the walking and the jet lag, so we stopped in a restaurant called Le Cardinal not far from our hotel for escargot, a big salad, and a cheese plate for dessert (how French!). Did I mention there was copious wine at every possible opportunity? They are very precise about the serving size. A small glass is 125 ml, a medium glass might be 300 ml, and a carafe is 500 ml (compare to a whole bottle of wine which is 750 ml). Very helpful!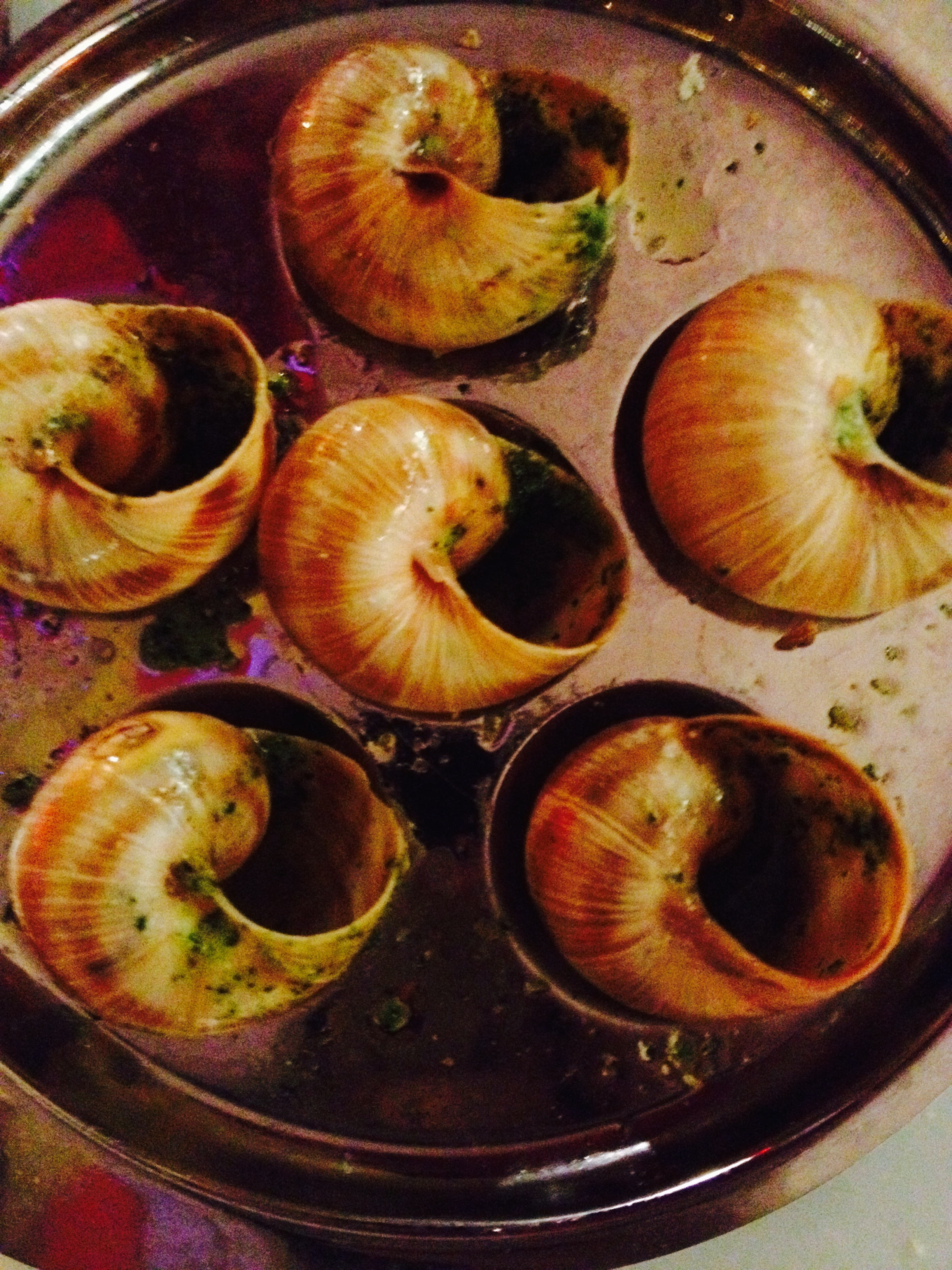 The salad was probably the healthiest lightest thing I ate the whole time.  I think it could be easily reproduced at home: shrimp, avocado, fresh citrus segments (orange and grapefruit), and a light vinaigrette. Hilariously to me, it was called the Copacabana Salad (at the Copa, Copacabana…). I'll let you know if I try making it at home!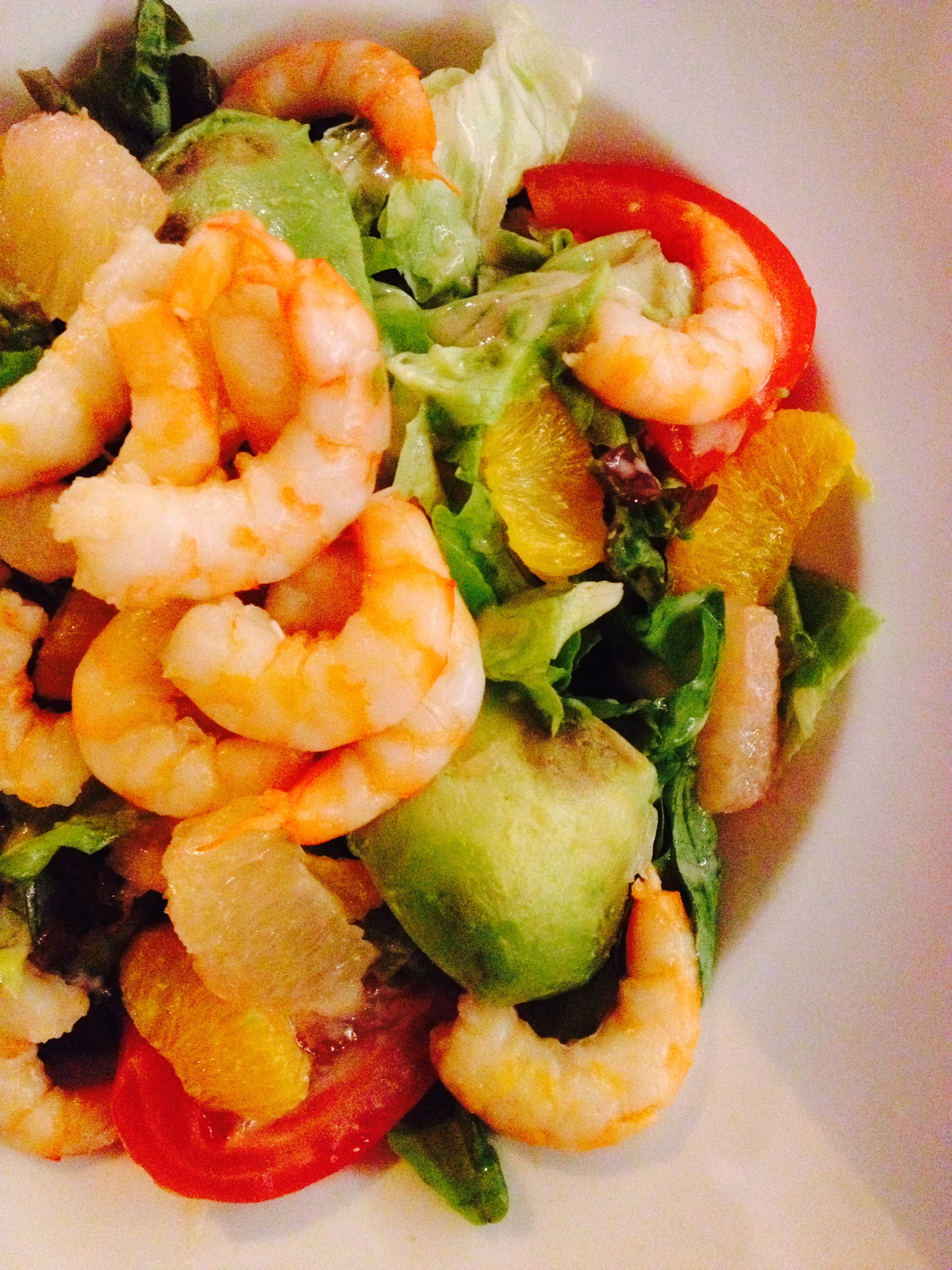 Good thing the salad was light and healthy, because then we had a cheese plate for dessert. Because FRANCE. It had two types of goat cheese, a brie type, a gouda type, a blue and a Comte. One astonishing thing about the cheese plate was that they included butter. Are there really people who say to themselves, If only I also had some butter in addition to all this awesome cheese?!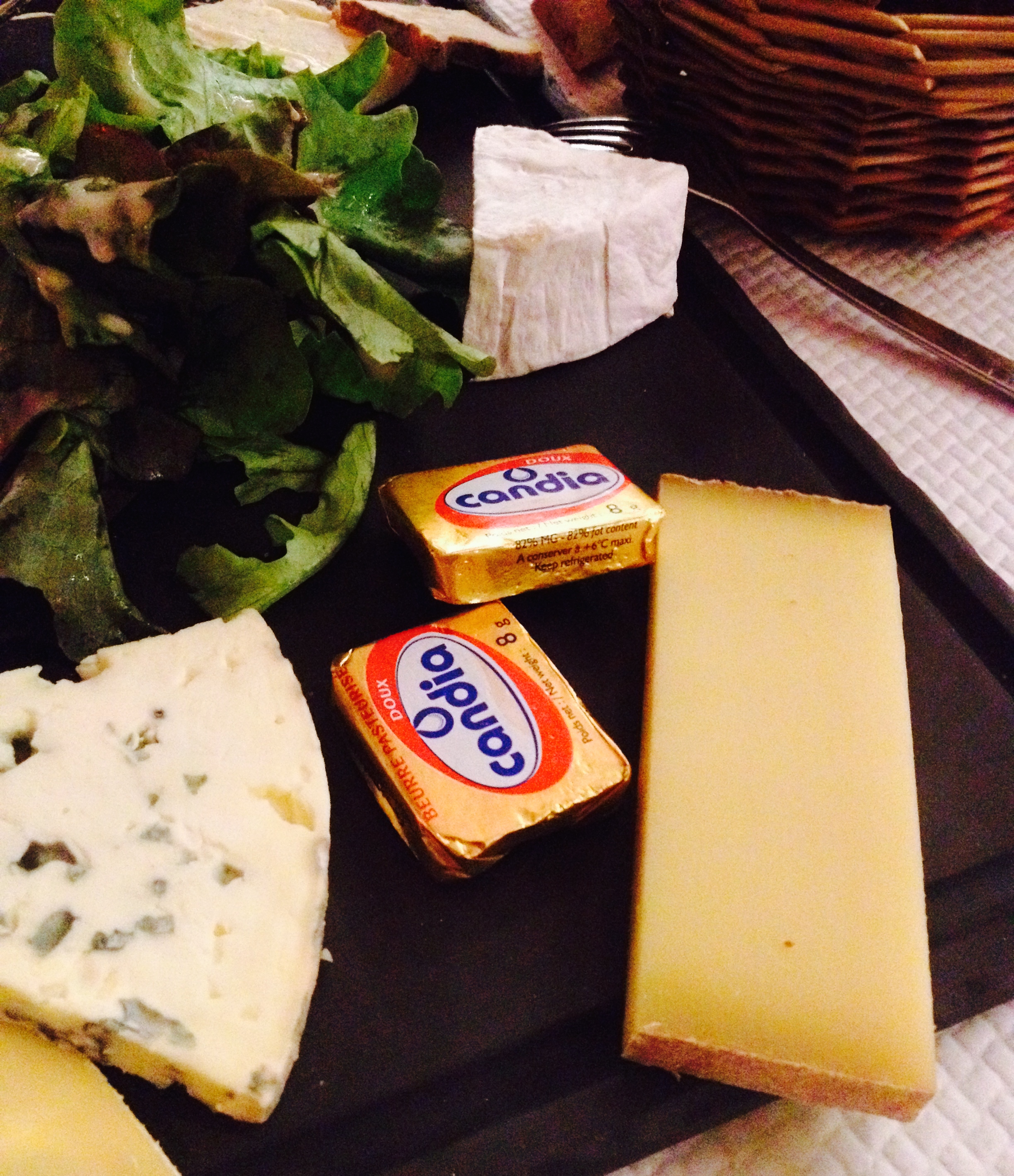 Day Three: Sacre Coeur
More walking! Excellent, since we've been eating all of the things. Destination: Sacre Coeur, the beautiful whipped-cream white-domed church on a hilltop, visible from all around Paris.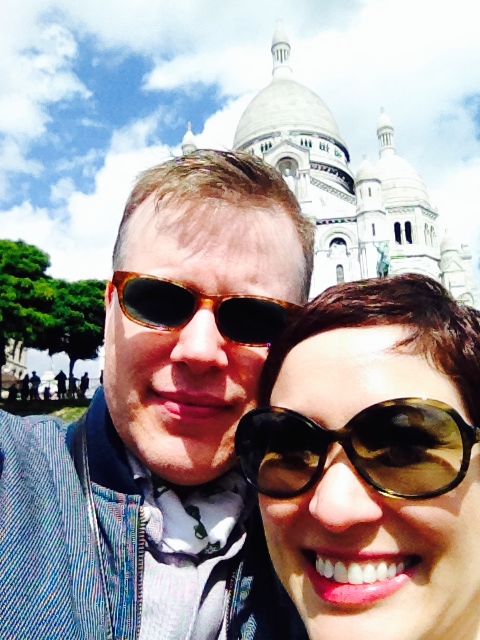 We wanted to go up inside the dome so we walked up the 300 steps it takes to get up there. They are very small, spiral steps that get smaller and smaller, and darker and darker, until you burst out into the light. Thank goodness they send you down another way because there is no way two adults could comfortably pass one another in there! It's all worth it through – the view is simply amazing. 360-degree views like this: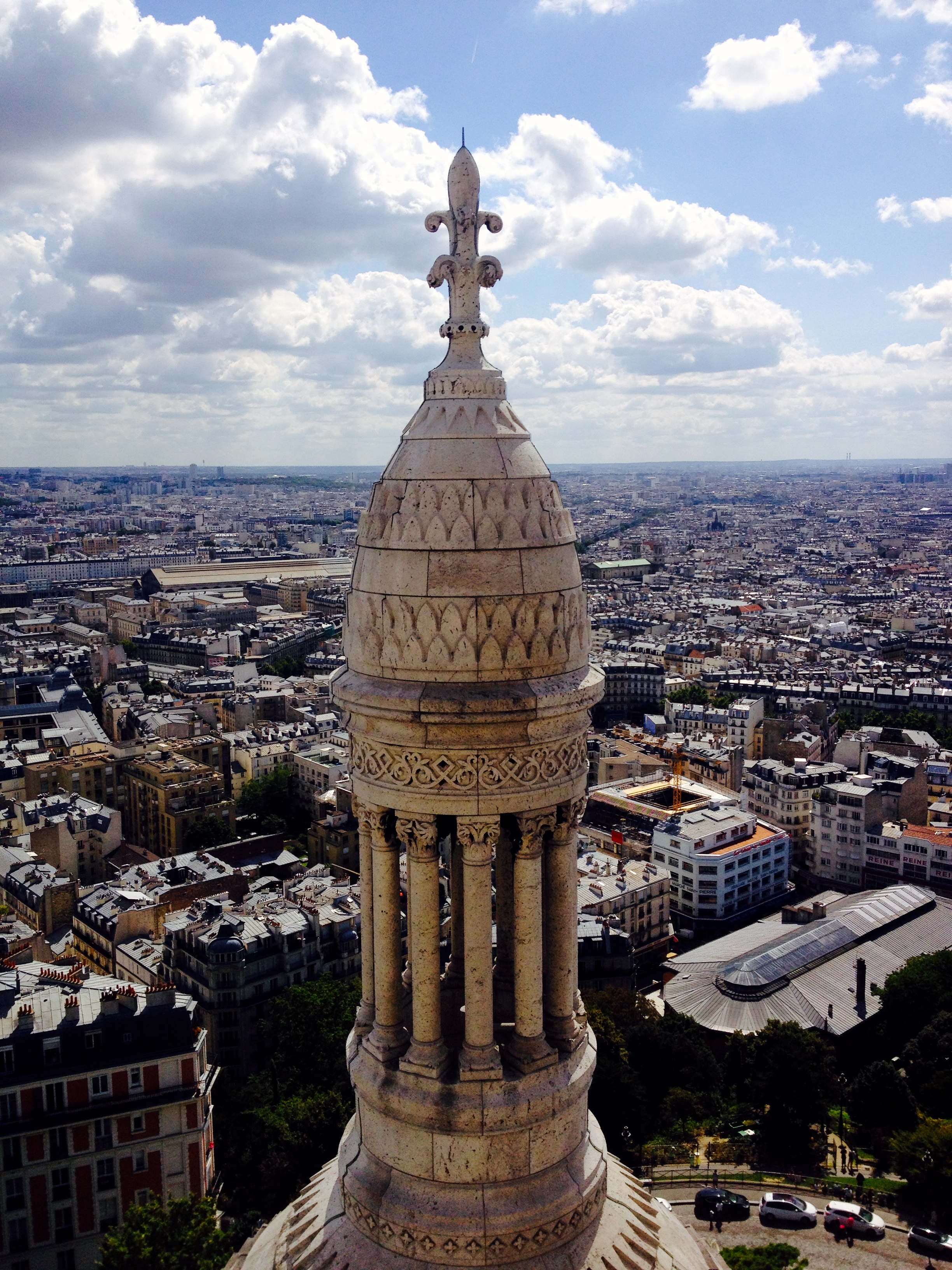 Sacre Couer is located in the Montmarte district which is where the movie character Amelie (in the movie of the same name) lives and works, and much of the action happens. Since Amelie is one of my favorite movies of all time, we simply had to go by Les Deux Moules (The Two Mills), the restaurant where Amelie works. She wasn't there, though. Darn.
After Sacre Couer, we walked to the Place de la Concorde, which is a large public square with 4-way vistas of the Arc d'Triumphe, Jardin d'Tuilerie, the National Assembly, and the Madeleine Church. I regret that my little iPhone camera is not good enough to do those sights justice.
On a completely different note (pun intended), I ALMOST FORGOT that the Buddha Bar is really real, and in Paris  – and so is the Hotel Costes! Let me 'splain why I'm so excited about that. They both produce international lounge music compliations that I loooove. Really, I play them all the time. We enjoyed a cocktail at the Buddha Bar – however, the Hotel Costes was extremely swanky so we didn't try to brave the layers of doormen in our jeans & sneakies.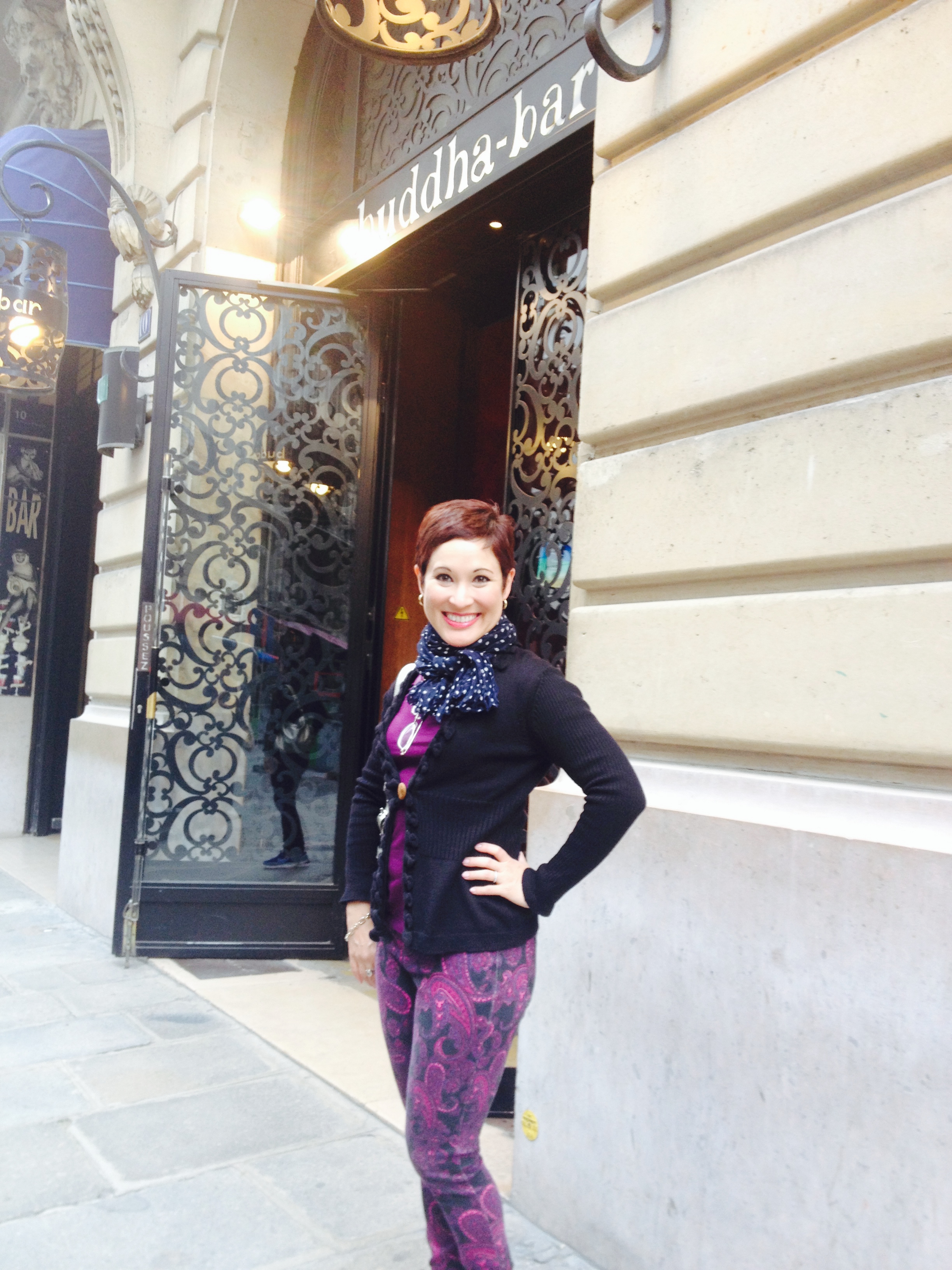 Afterwards, we walked back to our hotel along the Rue St. Honore and by all the glitzy shops at the Place Vendome. Then we decided to try Japanese food in France! Why not? They are great admirers of each others' cuisine.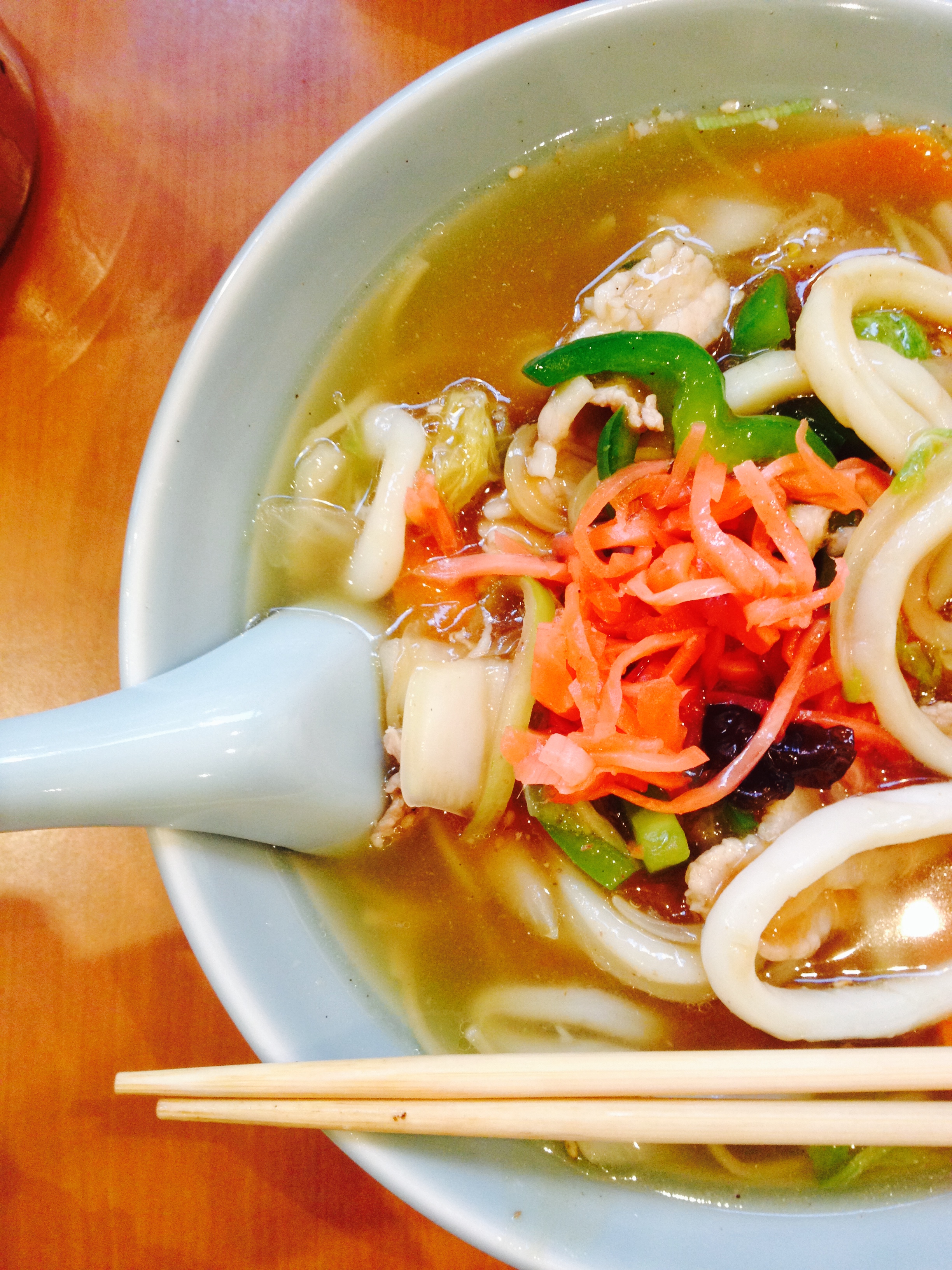 Paris: Last Day
On our last day, we contemplated going to the Musee d'Orsay but the weather was so great we walked over to Notre Dame on the Ile de Ville (island in the middle of the Seine) instead.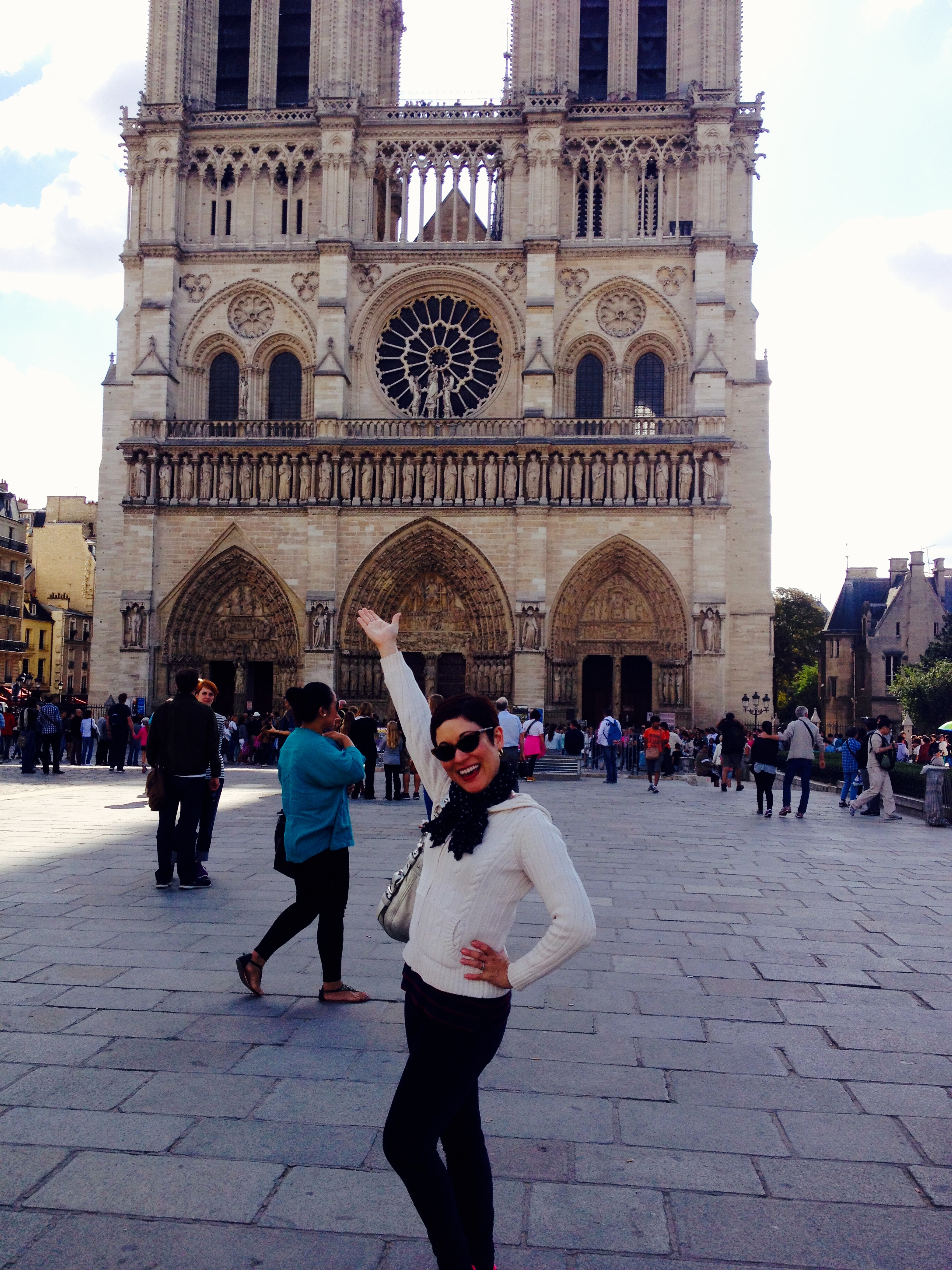 The line was immense so we did not go inside, just wandered around and looked at gargoyles and flying buttresses and the beautiful gardens. Next we walked to the Ile d'St. Louis (another island in the middle of the Seine) and did a bit of shopping, then had lunch at the St. Regis cafe.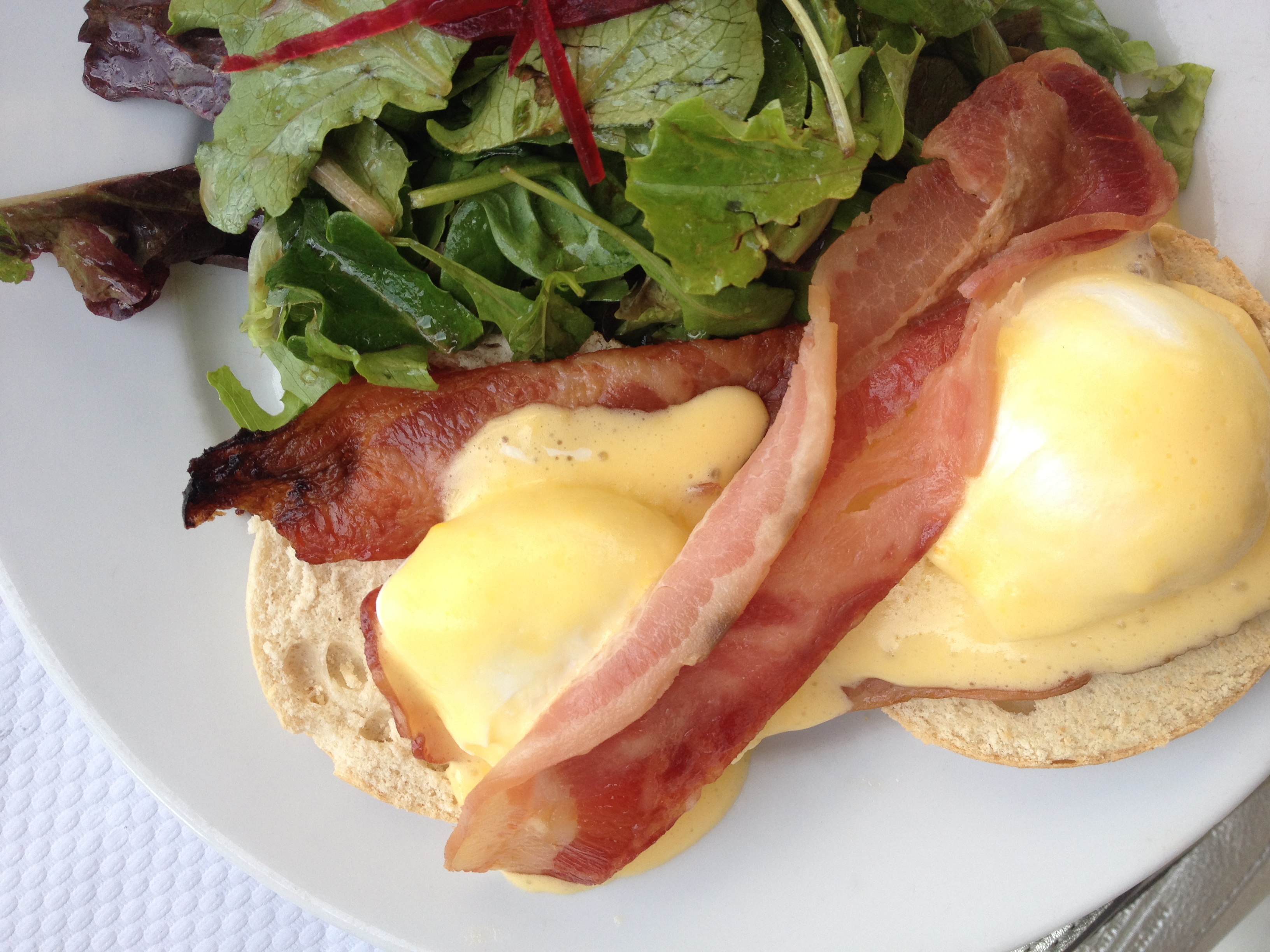 Eggs benedict and white wine, followed by a large frothy cappuccino.  I think I'm getting the hang of this cafe thing!
It was time to go back to London, so we said goodbye to Paris, got on the EuroStar and returned. To quote Audrey Hepburn: Paris is always a good idea.
Radish on! 🙂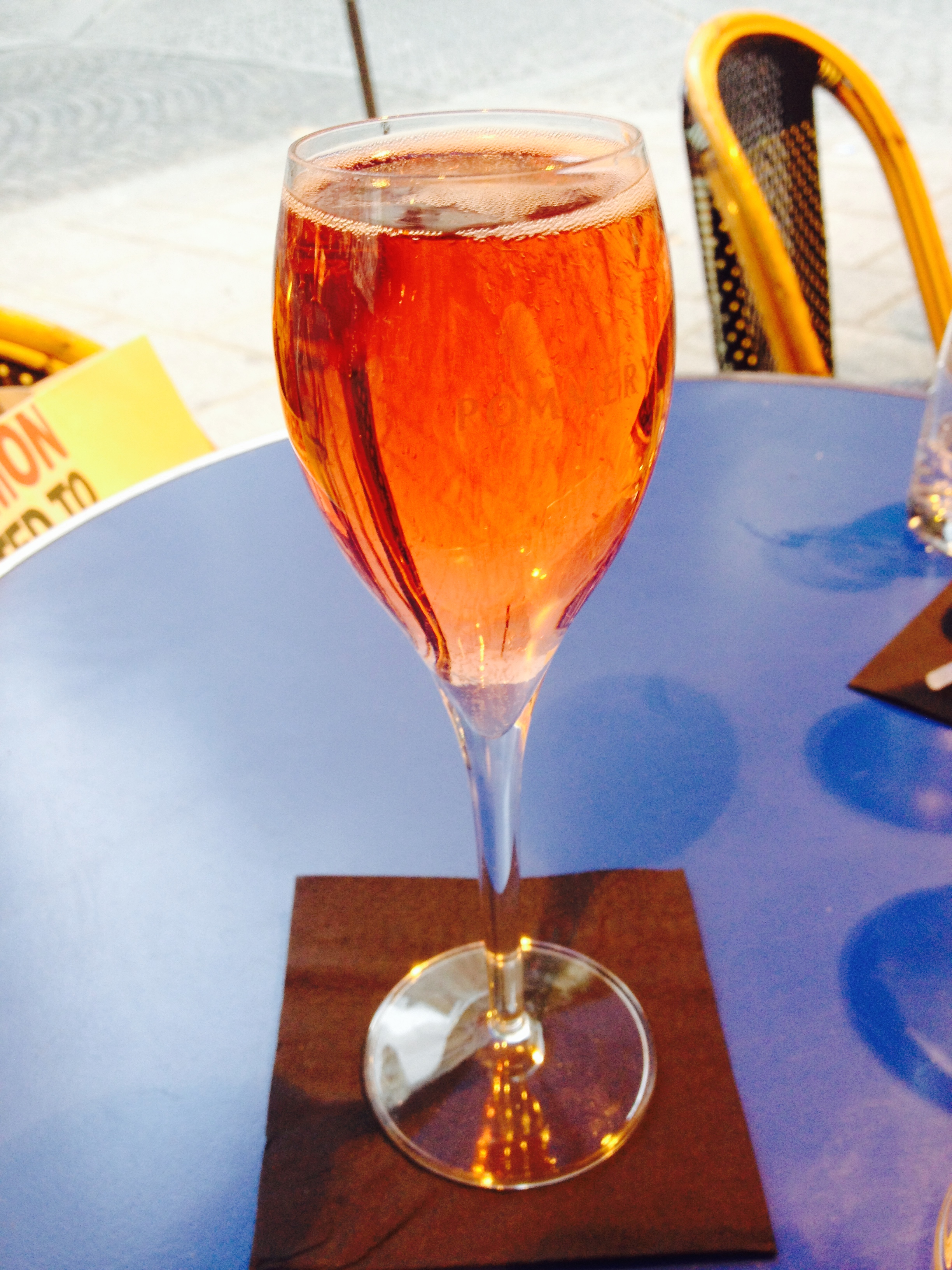 This is a radish*rose original article.  All images & content are copyright protected. All rights reserved. Please do not use my images without prior permission. If you want to republish any part of this article, please credit radish*rose and link back to the article.