So, apparently kale becomes a different thing altogether, and much more likable, if you *massage* it.  Really.  (I am sure the same could be said of certain people, self included.)
The avocado becomes the dressing, so you don't need much oil.  If there's an unsuspecting, uncertain-about-kale person around, you should give them the job of doing the  massaging.  Just put everything in the bowl, tell your friend to wash their hands and massage the salad. This is what will happen:
Friend (dubious expression): Really?
You: Really.  Just rub the avocado into the kale.  OK?  (turn away and become busy with another very important kitchen task)
Friend (massaging away): Um, OK… Hey, this is fun.  Oh… my hands are all avocado-y.  (turns towards kitchen sink, licks fingers on the way) – YUMMMM!!  OMG. Wait, what did you say was in this??
You: *secret smirk*
PRE-MASSAGE PHOTO: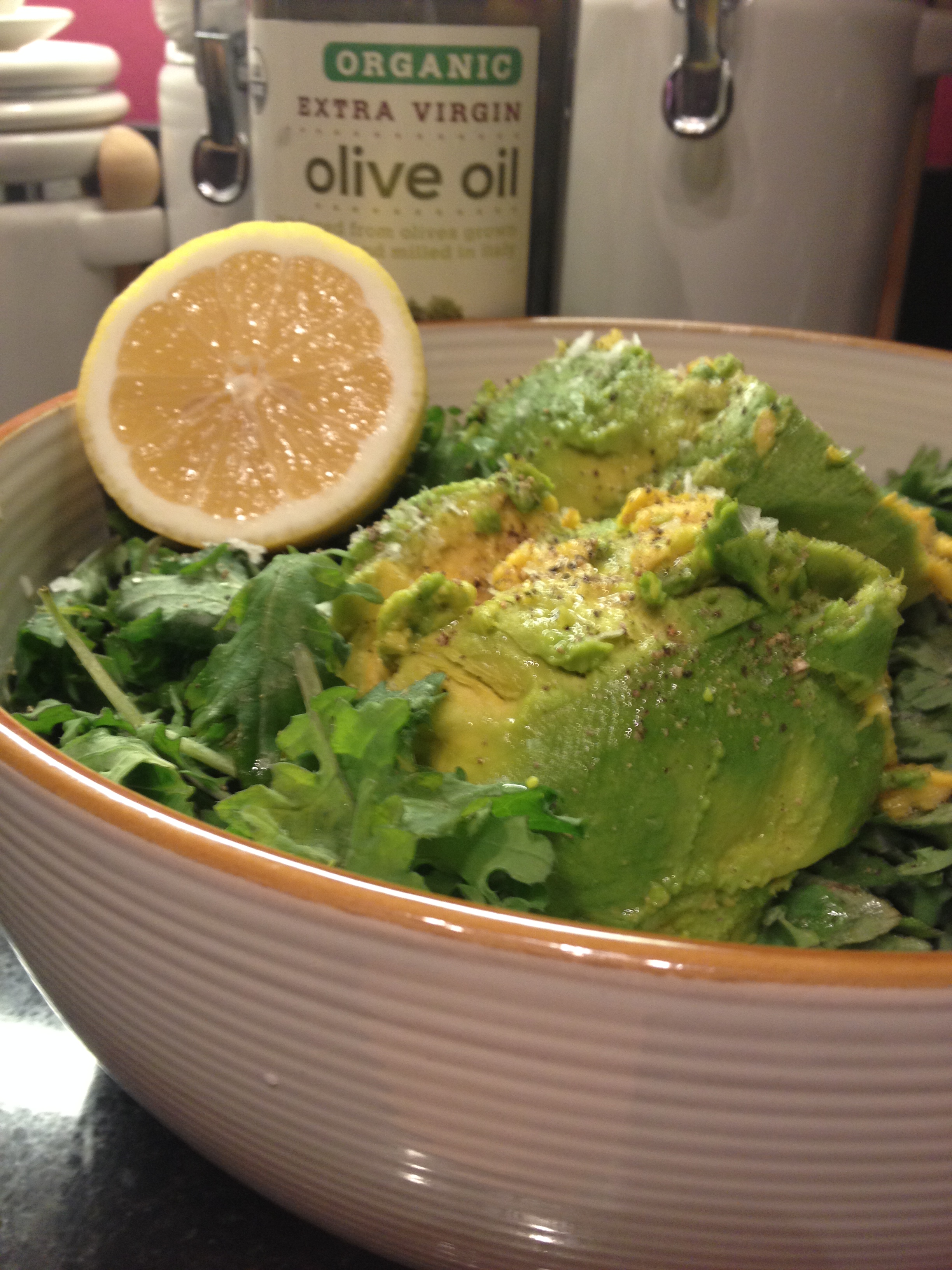 ADDICTIVE AVOCADO-LEMON KALE SALAD
Ingredients:
5-6 oz. mixed kale or Lacinto kale, cleaned, ribs removed, and torn into 2-3″ pieces (if baby kale, no need to tear or remove ribs)
1 avocado
Juice of 1/2 lemon
2 T. good olive oil
Large pinch of flaky sea salt, such as Maldon
Freshly ground pepper
Optional: Toasted sliced almonds
Method:
Put all in large salad bowl.  Massage the avocado into the kale with your hands until it is all creamy.  (The volume will get a lot smaller so if you want to put it in a smaller bowl at this point for serving, go ahead.)  Top with the toasted sliced almonds.
CHEATER "TOASTED" TAMARI ALMONDS:  I keep my sliced almonds in the freezer and here is what I do to "toast" them and boost umami (savory) flavor.  Place 2-3 T. of sliced almonds in a small microwave-proof bowl.  Sprinkle with a few drops of tamari, toss to coat all.  Microwave for 1 min.  They will get very warm and kind of stick together.  Break them apart before sprinkling on top of the salad.
This is a radish*rose original recipe.  All images & content are copyright protected. All rights reserved. Please do not use my images without prior permission. If you want to republish a recipe, please credit radish*rose and link back to the recipe.